【China Daily】'Canadian mom' teaches virtue of volunteer work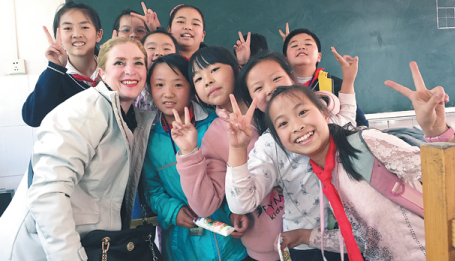 Rouhieh Tabibzadegan is known as "Canadian mom" among her students at Yunnan University of Finance and Economics.
Having taught English at the university in Kunming, Yunnan province, for 14 years, Tabibzadegan is single and views China as her husband and the students as her children. "I came to China to serve," she said. "I did not come here to have fun. I receive fun from what I see and what I learn," she said. "To serve means to sacrifice, and my sacrifice is my marriage. Because I have no child, I view all my students as my children. They call me 'Canadian mom' and I have to live up to their trust."
Apart from teaching, Tabibzadegan has organized three English corners at the university to help students practice their spoken English. She has also arranged speaking and singing contests in English.
"I think of myself as a candle which is burning, but gives its life away drop by drop. I can serve, I can give, and I don't want to waste my time," she said.
One of her work colleagues, Pan Dongxue, said: "I am impressed with her dedication to work. She is always energetic and passionate."
Besides working at the university, Tabibzadegan also does volunteer teaching at 24 primary schools for children of migrant workers in Kunming and nearby villages.
Many of the schools cannot afford to hire foreign teachers and the students cannot afford tutoring classes, she said.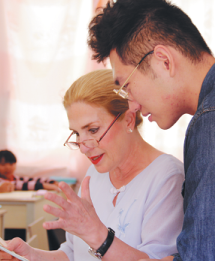 After learning about Tabibzadegan's volunteer work, the university rescheduled her classes for Monday, Tuesday and Friday so she can meet her other teaching obligations on Wednesday, Thursday and the weekend.
"For me they are very special," she said. "Being away from home, they have to move around constantly. They have to change schools constantly, and it's difficult to make friends and to get used to classes. I want to do something to improve their English level and change their lives."
Tabibzadegan contacted most of the primary schools herself. She usually goes to a new school and tells the principal, with a combination of her poor Chinese and hand gestures, that she wants to teach the students English for free.
She said even though many come from poor circumstances, they are all very smart and happy. "They are enthusiastic and I love encouraging them. Every time I go to a school, the students give me warm hugs."
Tabibzadegan has also encouraged her university students to do volunteer teaching. With the support of university administrators, about 500 students have taught at the primary schools.
Many of them want to become teachers, and volunteering is a good way to gain experience, Tabibzadegan said.
"For me, coming to China was a great gift and I want to make the best efforts to contribute to the country," she said. "I want to become the 'friendship ambassador' of Canada in China and contribute to the friendship of the two countries."



原文链接:enapp.chinadaily.com.cn/a/201912/03/AP5de5b6a1a310aba8ca8ccf9d.html